The peace and tranquility of an Egyptian river cruise onboard the S.S Karnak are shattered after one of the passengers is found murdered. Renowned Belgian detective Hercule Poirot is entrusted with identifying the killer before they strike again in an exotic mystery steeped in lust, jealousy and betrayal.
Director Kenneth Branagh assembles an all-star cast of potential murderers for Death on the Nile, a new feature adaptation of Agatha Christie's 1937 novel. Disney's follow-up to 2017's Murder on the Orient Express sees Branagh as the fabulously mustachioed and famously fastidious sleuth tasked with solving the death of an American heiress onboard a honeymoon cruise in Egypt. Like Orient Express, it is written for the screen by Michael Green, production designed by Jim Clay and photographed by Haris Zambarloukos BSC GSC.
One of the delights for an audience in watching one of the Christie canon is playing detective themselves and sorting the red herrings from the essential facts among an array of likely suspects. Death on the Nile features Gal Gadot as unfortunate heiress Linnett Ridgeway, with Annette Bening, Armie Hammer, Letitia Wright, Sophie Okonedo, Ali Fazal and British comedy stars Jennifer Saunders, Dawn French and Russell Brand.
With many cinemas closed, Disney delayed Nile's release by a few months but has stuck by a pre-Christmas theatrical outing. That's fantastic news for a production shot at the highest fidelity large format 65mm film and for which 32 70mm release prints have been struck. Zambarloukos details the scene of the crime.
There is a coda at the end of Orient in which Poirot hints at vacating in Egypt. At what point did you know this would be the next Poirot project?
HZ: We knew that Michael Green had already been commissioned to write it but we also had to shoot Artemis Fowl first. For anyone that knows the books, Poirot's reason for travelling to Egypt in the first place was not to solve the case that becomes Death on the Nile. He does go on vacation and then returns. In our film he says, 'I've just got back and now I have to return.' So, it was a nice touch from Michael to lead into Nile at the end of Orient.
Production was delayed due to the completion of Disney's purchase of 20th Century Fox, so we began in principal photography in September 2019 not 2018 as planned. That was great because it meant I got a lot of time to prep. I had the read book, but I did not go back to it because I just wanted to rely on our interpretation and Michael's fantastic script. I remember it being my favourite Christie but I think Michael did a superb job.
In the interim, the whodunnit genre has been satirised by Rian Johnson's Knives Out with Daniel Craig as a Poirot-esque sleuth complete with rogue accent. Did that play into your approach?
HZ: I enjoyed Knives Out but it really is a different interpretation to ours. I don't know anyone who has researched Agatha Christie's writing as much as Ken - down to what she was thinking and feeling while writing each book. This feeds into his interpretation of the story.
Ken has been championing diversity in casting for decades now (for example, casting Denzel Washington in 1993's Much Ado About Nothing). His philosophy is 'this is how I want the world to be and it doesn't necessarily have to be the one inhabited by the characters defined in the source material'. He did it on Orient (casting Leslie Odom Jr. as Dr Arbuthnot) and he's gone much further on Nile. Together with Micheal's script, he's added a race issue which didn't exist in the book and is a much better story for it. We went away from a more English, tamer version of the story to get under the skin of the human condition.
Similarly, the images could portray the world as if from a LIFE magazine issue from the 1930s of a cruise down the Nile but, given the darker outlook for film, I wondered what it would looked like as a cruise down the Mississippi. That was always my question to Ken - could we add any elements that bring that aspect out? Certainly, the choice of a blues soundtrack played into that.
Did you refer to previous film adaptations or were you inspired by other artistic references?
HZ: The references are quite varied. I always look at photojournalism from the period and in this instance Lee Tanner's The Jazz Image: Masters of Jazz Photography and The First World War in Photographs by Richard Holmes were both great references. Artwork by Edward Hopper provides another tonal element. For example, his 1939 painting New York Movie depicts a girl waiting in the wings of a theatre. She's in the shadows and you can see the red velvet curtain. In that picture there is nothing ominous or overtly scary or sexual but it evokes all those things in a very clever and emotional way without eliciting fear or showing her in a derogatory way, or as a victim. All of this added to the way we photographed this film.
The first eight minutes are in French and in black and white. That's brave. Why that creative choice?
HZ: It's a really daring thing to do in a big studio film. It recounts Poirot's past as a solider in the first world war, his approach to remembering and analysing how he becomes who he is. The film then moves to the '30s and a gritty, blues club in London where we feature the music of Sister Rosetta Tharpe, an African-American blues artist and guitarist. She is a very assertive woman, standing up and playing guitar. We meet a trio of characters played by Armie Hammer, Gal Gadot and Emma Mackey in that second part of the beginning of the film through dance and music. There is dialogue but it's really about body language in this dance sequence. We shot this with very long Steadicams that intertwine the music, the choreography and their relationship. We planned all of this to be a very visceral and immersive introduction.
The design of Orient was bright, classic, glossy. Was this a template for this film or did you evolve the look?
HZ: It's definitely evolved but we had to stay within the same language. We wanted the highest fidelity photography which is 65mm analogue film, so we managed to stay with that process and certainly a classic approach to lighting and always an ode to all the film noir that Ken and I grew up loving such as Dial M for Murder or those large format human condition films like Giant (1956).
Both Ken and I love John Cassavetes. For us, it was how do you capture that rawness of performance while making a studio film? Those were the influences we played around with.
For Orient we'd watched a lot of Anthony Mann films and those were a huge influence on this film. The Night of the Hunter shot by Stanley Cortez ASC was a key text. It is a very Americana film that combined daytimes shot on a real river with night-time work shot in a studio. It's a masterpiece in every way with some very iconic imagery but I think my idea of turning the Nile into the Mississippi is more understandable as a concept when you see that film.
Yourself and Branagh have shot film for your previous five collaborations. Did you go with the same camera package as Orient?
HZ: Yes. Two Panaflex 65mm synch-sound cameras with a combination of System 65 lenses and Spheros. The Spheros are slightly older, from the David Lean era of 65mm. The System 65s are made for the format's resurgence in the early nineties led by Ron Howard's Far and Away (1992) and Ken's Hamlet (1996).
Our film stock was a Kodak combination of 500T 5219 and 250D stock which is super fine grain. Exteriors in sunlight on 50 ASA 65mm look almost three dimensional. And 200T as well, even though we were large format we wanted to go further and do large format and fine grain film. I certainly chose lenses based on their clarity. I know many people go for a vintage look and find something a little softer. I was going for the most immersive type of analogue filmmaking I could.
The team at Panavision, led by Hugh Whittaker and Charlie Toddman, were very supportive in making a 65mm film possible. They have kept those cameras working over the decades and it's a privilege to use them. Likewise, Rob Garvey at Panalux was instrumental in helping us accomplish our very complicated stage rig.
"Our whole design and research went into creating a set. We wanted to build a life-size boat inside and out; not to break it down into small sets but to shoot it as if we were on a boat. That's a huge undertaking."
- HARIS ZAMBARLOUKOS BSC GSC
This was shot like Orient at Longcross Studios with plates filmed on location in Egypt. Was it ever a possibility to shoot entirely on location?
HZ: The issue is that 1934 Egypt barely exists today. For example, in the 1960s they moved the Abu Simbel temple 300 metres away so that the Aswan Dam wouldn't flood it. So, we built the entire four-storey high Abu Simbel at Longcross, complete with banks of water. The same with Giza and the Sphinx. In the 1930s the Nile went up to the feet of the Sphinx. Now all you see is the concrete expanse of Cairo.
Secondly, it's difficult to shoot complex shoots on a river while floating, taking all the cast down there and scheduling them, on top of ensuring everyone's safety on such a high-profile project.
Our whole design and research went into creating a set. We wanted to build a life-size boat inside and out; not to break it down into small sets but to shoot it as if we were on a boat. That's a huge undertaking. Jim Clay built an amazing set to scale for the Karnak. It was so big we needed to build a temporary sound stage around it. We also wanted to use some real daylight when we got great sunlight in Longcross and use a little bit of water to basically film the boats carrying guests to the Karnak.
We recycled the railway from Orient and built the boat on that so we could wheel it in from outdoors to indoors. We built a very elaborate lighting rig that you could pull back and see the entire boat in one shot. You could step onto the boat and walk through all the rooms which were all lit for an analogue film f-stop. It was complicated and took most of our planning but I personally don't think you can tell the difference when we cut - even from a shot filmed outside in real sunlight juxtaposed with one in apparent sunlight on our sound stage. It's seamless because we took such great care and a detailed approach to our rig and construction.
You augmented the studio work with plates photographed on location in Egypt. Tell us about that.
HZ: We filmed on the Nile from a boat with a 14 8K Red camera array. We had a 360-degree bubble on top of the boat and two three-camera arrays pointing forwards and backwards as we travelled up and down. We specifically chose areas where modernity wasn't present (or where it was, we removed it in post) and we also shot plates from the point of view of passengers onboard the Karnak.
VFX supervisor George Murphy edited the footage and stitched the plates together into an essentially very, very advanced virtual reality rig in which I could pan my camera. We did that before principal photography, so we never had to guess a month or so later what to put there. That's a big help. Most shoots do their plate photography afterwards. It meant I could pretty much place the camera on any deck of the Karnak for any scene and know what the background would be.
As with Orient, did you play back footage realtime on LED screens outside the boat set?
HZ: I'd love to have done it live but on Orient we were only dealing with one wagon's windows at a time. It was still the biggest LED set-up ever done to that point, but the Karnak set is 20 time bigger than that. There aren't enough LED screens available - plus it would have been prohibitively expensive.
Instead, I went for a much larger version of a technique I'd used on Mamma Mia which was to hang back projection screens all around the boat - 200m in circumference, 15m high. We used Arri SkyPanels at a distance to create a sky or a part of the background. It could also be converted into a blue screen when we needed to. It meant that if I had a shot looking above the horizon line into the sky then it could be done in camera.
How confident were you of retaining colour and contrast from set to post?
HZ: I took stills on the recce and we used those to the create colours with this back projection for our skies. I take prints (not digital stills) so there is no misinterpretation. A still is a piece of paper that you can see. Once something is emailed across and seen by someone watching on another screen the information can get lost.
At the same time there were a lot more checks and balances put in place. We had a projector at Longcross and I watched dailies with (dailies colourist) Sam Spurgeon every lunchtime. With Kodak and Digital Orchard we have a very quick process to convert analogue filmmaking into digital by the next morning. Film is processed at night, they scan at 4am and by mid-morning those digital images are transferred to our dailies suite at Longcross. At lunch we'd watch it digitally projected, having been processed, scanned and graded at 2K.
I check that first and give notes to Sam and those get transferred onto our dailies which is what Ken, the editorial team, VFX and studio team sees. That's a major check. It's me with someone in a room, rather than me talking over the phone which is a big difference. I have a very good relationship with Goldcrest and (DI colourist) Rob Pizzey who also sees things along the way. I supervise the grade at the end. So, there's no need for anyone to interpret anything. It's a collaboration in which we all look at the same images.
Did you shoot black and white for the opening scene or convert?
HZ: We shot colour for a couple of reasons. Although Kodak could manufacture BW 65, there is no lab in the world to processes it. Plus, there's a certain skill to grading BW using colour negative and the added benefits are that that you can place a grey tone to a colour. For example, you could take red and decide it will look a very dark grey or a light grey, so you get very detailed tones. Ultimately, I get much more control in the DI this way. They were very monochromatic battlefield sets and costumes so it was quite limited in this case. The Germans wore grey and the Belgians wore dark blue and it's a dark sooty gas-filled battlefield but you could manipulate the blue in the sky a little bit more and certainly manipulate the intensity of people's eyes - especially if they had blue eyes (which Branagh does).
Tell us about your operating team.
HZ: Absolutely. If there's any merit or artistry in cinematography it is 100 percent because of the crew. I have a fantastic team, many have been collaborators for decades now. My A camera operator is Luke Redgrave, B camera Andrei Austin, Steadicam is Stamos Triantafyllos. I cannot describe how difficult it is to do the shots Stamos does at those lengths carrying that weight. I don't know anyone else who could do it. It's a combination of extreme artistry and extreme physical ability.
My fantastic key grip is Malcolm Hughes. The work that Luke and Malcolm do on a crane is incredible. My great gaffer was Dan Lowe and my A cam focus puller was Dean Thompson who has been my first since Cinderella and is an expert on 65mm.
How did you handle sound sync?
HZ: To do sound sync work on Orient we used sound cameras that are twice as heavy as high-speed cameras, so I wanted to develop soundproof housing (blimp) for our camera on Nile. I took the problem to Stuart Heath at BGI Supplies at Longcross. They've made all sorts of props for us before, from Cinderella's carriage to the furniture on Nile. I told him that I needed it really quickly. All my other attempts had failed. Stuart suggested using a material that they soundproof the interior of helicopters with. He brought a draper in who basically measured the camera as if making a dinner suit for it and quickly made a couple of versions for us. It was very effective and really opened up the Steadicam possibility for us. All from just wandering onto a workshop on the lot and asking a friend if he had any ideas about how to achieve something. In the old days that's what everyone did - the answer was somewhere on the lot.
In Orient you created some stylish direct overheads of the train carriage. You've told us of the Steadicam dance sequence in Nile. Were there other stylistic flourishes?
HZ: Inside the sound stage we went twice round the Karnak with the entire cast all choreographed for this one great reveal of a murder. It was really hard work to do. I understand why it was cut in the edit although they have kept a lot of other single long takes and there are lots of places where you see the whole cast in a single shot.
However difficult you might think setting up a long single is in terms of lighting and operating, it is equally, if not more difficult, to block a scene with multiple actors, keep the audience engaged and choreograph it in a way that is exciting and at the same time reveals things gradually. There's a lot of pressure on a lot of people in shots like that. Everyone's got to be on top of their game. Because we're all so interdependent, it's a domino effect in that the further you go in the take, the bigger the responsibility is for not getting it wrong whether that's the operator, focus puller, the actor saying the final line, the gaffer lighting a corner at just the right time. We always get excited about those shots but also very nervous.
Did you complete an HDR grade?
HZ: We did a HDR DI and one in Dolby Vision. I'm in two minds whether I prefer the 70mm analogue print or the Dolby Vision DCP. Film is inherently HDR but projectors now are interpreting the information that exists in a film neg. They are only just getting to where they can interpret the dynamic range of a digital camera, let alone of a film camera. There is nothing more immersive or more HDR than a 65mm neg scanned at 8K down to a 4K Dolby DCP. It has everything you'd want in a projection. We pushed the limits in our DI with Rob and I'd do minute adjustments in Dolby Vision. The HDR process is becoming very seamless.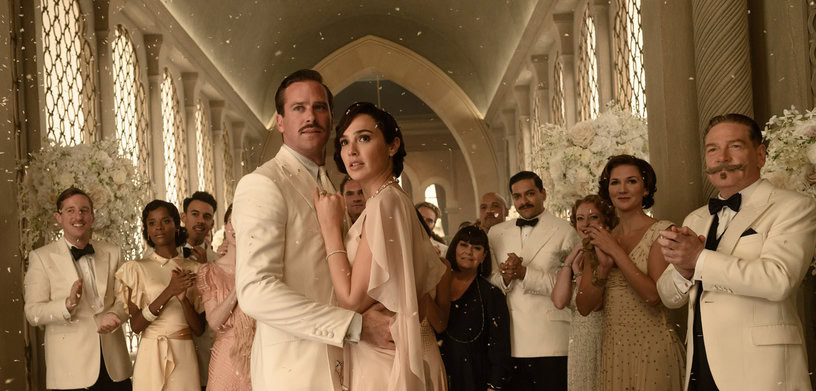 Finally, after six films and 14 years working with Ken Branagh, could you tell us what makes your relationship tick?
HZ: It is a fantastic friendship. To begin with you must be able to maintain a professional friendship with any cast and crew which is all about doing your very best and understanding where you have common aesthetics and shared thoughts about humanity. Ask what kind of world you want this to be, because that will come through in your filmmaking.
As you say, I've spent years working in close proximity to Ken and we have a mutual affection and admiration for each other otherwise we wouldn't be doing it for so long. He is relentless in pursuit of perfection and in his advancement of storytelling and is inspiring to work with. It means you have to be as relentless in your area of craft.
I think we both like making the same kinds of films. I'm a Greek Cypriot who grew up with Greek myth and tragedy. Ken's love of Shakespeare is legendary. You can easily see the lineage between Aeschylus (the ancient Greek creator of tragedy) that goes all the way to Shakespeare. Perhaps that appreciation for the human condition in its best and worst forms is the tie that binds.